This Chicken Parmesan Bubble Up Casserole takes all the flavors of the classic Italian dish in a surprisingly light bubble up dish made with biscuit dough, chicken breast, marinara sauce, and plenty of cheese.
300 CALORIES

26g CARBS

11g FAT

23g PROTEIN
5
Freestyle™ SmartPoints™ New!
(6 Old SmartPoints™)
(8 PointsPlus®)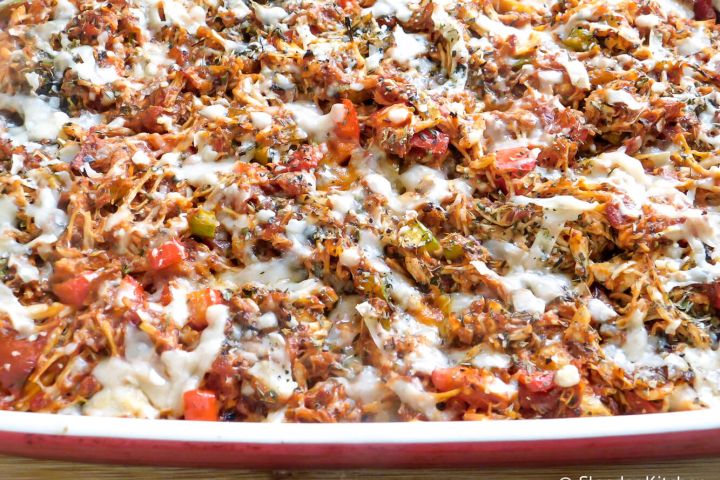 Around here, everyone loves a good bubble up casserole! It is also one of my favorite things to make and I am always thinking about new creative ways to make bubble up dishes.
For those who haven't heard of a bubble up before, it's basically a casserole style dish that uses biscuit dough on the bottom of the baking dish. As the biscuit dough cooks, it bubbles up through the other ingredients thus creating the famous bubble up dishes. They are delicious and you will never believe that they can actually be part of a healthy diet or Weight Watchers. They taste indulgent and rich from the biscuit dough. 
Over the years, I have created all kinds of bubble up dishes from Taco Bubble Up to Chicken Enchilada Bubble Ups and even Breakfast Bubble Ups, and I am always thinking about new and fun ways to create this dishes since they are so popular with readers and we love them. So when I came up with the idea for a Chicken Parmesan Bubble Up, I couldn't wait to get started. It has all the flavors of chicken parm and almost reminds me of a chicken parmesan sub sandwich from the addition of the biscuit dough.
To keep the points and calories low, I make the bubble up with zero point marinara sauce. You can also use a store-bought sauce or make your own. I also use boneless skinless shredded chicken breast. You can make this at home in the slow cooker or use a rotisserie chicken for easier prep. To that I added some diced bell peppers and plenty of Parmesan cheese. You could add some mushrooms or other vegetables as well. You could also add some shredded mozzarella cheese on top as well.
Side Dish Ideas
When it comes to side dishes, I like to pair this with something light since it is a pretty indulgent dish. Some of my favorite options are:
Since this is an Italian inspired dish, I love pairing it with a nice Italian chopped salad. I use chopped Romaine, tomatoes, cucumbers, pepperoncinis, olives, and light Italian dressing. If I am really hungry, I sometimes will throw in some chickpeas as well.
To add some greens, this dish is perfect with roasted vegetables. Consider trying roasted broccoli. zucchini, asparagus, or green beans tossed with olive oil, salt, and pepper.  You can also add some fresh chopped garlic or garlic powder and finish everything with a drizzle of balsamic vinegar.
If you are missing spaghetti, consider making spaghetti squash or zucchini noodles instead. This keeps things light and healthy but is similar to the classic chicken parmesan and pasta pairing. Top the vegetable noodles with marinara sauce, Parmesan cheese, or a combination of olive oil and garlic. You can also use some ricotta cheese to make a creamy veggie noodle.
Another great salad option is to make a lightened up Caesar salad using either Romaine or kale. You can use a store-bought yogurt based dressing or make your own.
Source link